A Father, Mother, and Teenager went hunting together. When a prize buck ran past them, the parents and the youth all fired at the exact same moment and the buck dropped.
However, there was only one bullet hole and they didn't know which of them shot it. So they took it to the registration center, not knowing who should tag it.
The agent said, "Let me look at the deer. Sometimes I can figure it out."
He asked a few questions, examined the deer carefully, and declared, "The teenager shot this buck!"
Amazed, they all asked how he knew. Stooping down he pointed out the wound, "See here. It went in one ear and out the other."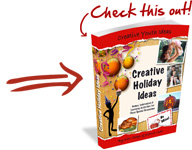 Holiday Collection


Games and Activities in Celebration of common Holidays.
Creative Holiday Ideas has over 300 pages of ideas to help you plan your next Mother's Day, Father's Day and a variety of other holiday events. If you've ever wondered what you're going to do for the holidays and how you're going to do it, this resource is for you.
=> Tell me more about the Holiday Collection


| | |
| --- | --- |
| | Rate This Post by Clicking the Stars : |