"Be strong in the grace that is in Christ Jesus…endure hardship with us like a good soldier of Christ Jesus… if anyone competes as an athlete, he does not receive the victor's crown unless he competes according to the rules. The hardworking farmer should be the first to receive a share of the crops…" ~ 2 Timothy 1:1-7
"Athletic competition clearly displays one's ability to endure in measurable terms. Running a marathon (26 miles, 385 yards) in a certain amount of time indicates a degree of endurance. The one who finishes with the quickest time has, among other things, a greater ability to endure. But perhaps one of the greatest examples of endurance in the world of athletic competition is long-distance professional cycling…
Without a doubt, the greatest of these cycling events in the world is the 'Tour de France.' This event sometimes stretches more than twenty-four days and covers over 2,500 miles. The riders follow a course outlining the country of France, from the flatlands of Brittany to the mountains of the Pyrenees and the Alps. Each day of competition involves from three to eight hours of racing and has its own unique course, from shortened time trials to lengthy hill climbs. This incredibly demanding event is considered by many to be the most remarkable example of physical and mental endurance in all of athletic competition.
The first American to ever win the Tour was Greg LeMond. His amazing conditioning and stamina allowed him to endure to victory in the 1986 Tour, which was considered the most demanding Tour
in recent memory.
But in 1989, LeMond demonstrated perhaps the greatest display of emotional and physical endurance when he returned to win the 'Tour de France' by only eight seconds over Frenchman Laurent Fignon. This race is now considered the greatest Tour ever.
After two years of recuperation from an accidental gun shot wound and an appendectomy, LeMond returned to win despite the many skeptics who claimed his riding days were over. His win put the skeptics where they belong.
Watching this race, I was reminded of the illustrations Paul used about enduring through hardships in 2 Timothy 2. There Paul described the professions of soldier, athlete and farmer. Interestingly, he does this directly after exhorting Timothy, 'Be strong in the grace that is in Christ Jesus'…
The Christian life is essentially warfare against the forces of evil.
If we are going to compete and endure through this warfare, we must take to heart the soldier's example…
The athlete would not dare to enter competition without first physically and mentally preparing himself…
Through his hard work, the farmer strives ahead in his labor to harvest a successful crop."
Source: Ronald F. Bridges- "Rediscovering Your First Love" 1990, (Here's Life Publishers, San Bernadino, CA)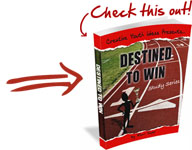 Destined to Win
Need a Youth Camp/ Bible Study Series on "Running the Christian Race"?
Our "Destined to Win" series is a great follow up for youth who are new Christians or to emphasize the basics of our spiritual Journey in the Faith. This Bible Study / Camp Curriculum / Small Group Study has a sports theme and is great for athletes and works well as a tie in to what's going on in the NBA and the current Linsanity.
->Tell me about "Destined to Win"


| | |
| --- | --- |
| | Rate This Post by Clicking the Stars : |