I posted this last year, but it is worth the reminder. This article was originally printed in the Journal of the American Medical Association (JAMA) and is a medically and historically accurate account of the physical death of Jesus Christ. It contains illustrations and walks through the events of the crucifixion from a medical perspective. Its very enlightening especially this time of the year when we contemplate the events around the easter celebration. This is a scan of the images and reformat of the original article. Only the formatting has been changed.
Click here to download the adobe acrobat PDF file [1.25 megabytes in size] from the website
Source:
"On the Physical Death of Jesus Christ"
William D. Edwards, MD; Wesley J. Gabel, MDiv; Floyd E Hosmer, MS, AMI
Reprinted from JAMA – The Journal of the American Medical Association
March 21, 1986, Volume 256
Copyright 1986, American Medical Association

If you don't have Adobe Acrobat Reader, you can get it for free from here:
Download Acrobat reader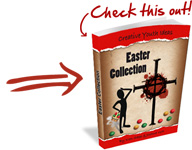 Easter Collection


Games and Activities in celebration of Easter.
Get more than 80 creative ideas for planning a Youth Easter celebration or Easter Party. You can immediately download my best Easter Icebreakers, games, illustrations, Easter activity ideas AND MUCH MORE in a useful ebook!
=> Tell me more about the Easter Collection


| | |
| --- | --- |
| | Rate This Post by Clicking the Stars : |