In his allegory "The Singer", Calvin Miller gives insight into the supernatural war that was waged in those days from the cross to the empty tomb. The Troubadour (Christ) brings a song of love to the world ruled by World Hater (Satan).
Later, as the Troubadour is being tortured, World Hater cries out to God, " 'Look how he dies. Cry, Creator, Cry! This is my day to stand upon the breast of God and claim my victory over love. You lost the gamble.
In but an hour your lover will be pulp upon the gallows. Did you tell him when his fingers formed the world, that he would die on Terra, groaning with his hands crushed in my great machine?'
"He laughed and turned to look again upon the Troubadour. 'Now, who will sing the Father's Song?' he asked the dying man."
Later in the story, Miller paints this scene:
"World Hater reached the threshold of eternity and found the doorway of the worlds, not only open, but clearly ripped away. He strained to hear the everlasting wail, the eternal dying which he loved. All was silent. Then he heard the Song.
"' No!' he cried. 'Give me back the door and key for this is my domain.' He felt again and found the great key at his waist had disappeared.
"He steeled himself for the battle out ahead. He would have to fight the Song. He would fight with every weapon in his arsenal of hate.
"But he knew that he would lose. And he knew that when the course of time was done, the door would be put back upon the Canyon of the Damned, and he would be locked in with all the discord of the universe. . . ."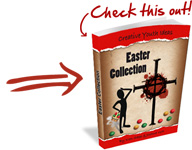 Easter Collection


Games and Activities in celebration of Easter.
Get more than 80 creative ideas for planning a Youth Easter celebration or Easter Party. You can immediately download my best Easter Icebreakers, games, illustrations, Easter activity ideas AND MUCH MORE in a useful ebook!
=> Tell me more about the Easter Collection


| | |
| --- | --- |
| | Rate This Post by Clicking the Stars : |