The 7 last words of Jesus Christ from the cross are actually 7 short phrases that Jesus spoke while hanging on the cross. None of the writers of the four gospels record all 7 of these phrases, so you have to piece them together from the gospel accounts.
"Father, forgive them, they know not what they do." (Luke 23: 34)
"This day thou shalt be with me in Paradise." (Luke 23: 43)
"Woman, behold thy son." (John 19:25-27)
"My God, My God, why hast thou forsaken me?" (Matthew 27:46)
"I thirst." (John 19:28)
"It is finished." (John 19:30)
"Into thine hands, O Lord, I commend my spirit." (Luke 23:46)
Teaching Ideas using these 7 phrases of Christ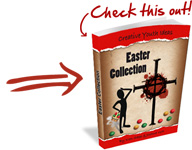 Easter Collection


Games and Activities in celebration of Easter.
Get more than 80 creative ideas for planning a Youth Easter celebration or Easter Party. You can immediately download my best Easter Icebreakers, games, illustrations, Easter activity ideas AND MUCH MORE in a useful ebook!
=> Tell me more about the Easter Collection


| | |
| --- | --- |
| | Rate This Post by Clicking the Stars : |