Years ago, a young mother was making her way across the hills of South Wales, carrying her tiny baby in her arms, when she was overtaken by a blinding blizzard.
She never reached her destination and when the blizzard had subsided her body was found by searchers beneath a mound of snow. But they discovered that before her death, she had taken off all her outer clothing and wrapped it about her baby. When they unwrapped the child, to their great surprise and joy, they found he was alive and well.
She had mounded her body over his and given her life for her child, proving the depths of her mother love. Years later that child, David Lloyd George, grown to manhood, became prime minister of Great Britain, and, without doubt, one of England's greatest statesman.
Source: James S. Hewett, Illustrations Unlimited, Tyndale, 1972, p. 375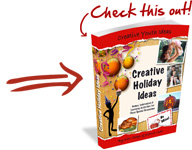 Holiday Collection


Games and Activities in Celebration of common Holidays.
Creative Holiday Ideas has over 300 pages of ideas to help you plan your next New Year's Day, Valentine's Day, Mother's Day, Father's Day, Halloween or Fall Festival, and Thanksgiving event. If you've ever wondered what you're going to do for all these holidays and how you're going to do it, this resource is for you.
=> Tell me more about the Holiday Collection


| | |
| --- | --- |
| | Rate This Post by Clicking the Stars : |