Like the beautiful Christmas wreath
Whose circle knows no end,
So becomes the life of us
When the Savior enters in.
Like the brilliant shining star
That guided shepherds of old –
So may Christ shine in us,
As His likeness we unfold.
Like the joyous carols we sing
To cheer our special friends –
Christ's presence fills us with joy,
A joy that never ends.
Like the lowly stable manger
That held our infant King,
So now the arms of Jesus
Cradle us and comfort bring.
Like the fragrant, twinkling tree
Whose sights and smells delight
The life we choose with Jesus
Delights us in doing right.
Like the crowded sleepy town
In which the babe was born,
His gentle spirit fills us
As in Him we are reborn.
Like the special gifts we choose
And to our loved ones bring,
He gave His life a gift to us –
O'let His praises ring!
Like the peaceful nativity child
Whose power wrote history's pages,
Even now that peace and power
Saves men sin and its wages!
Like that first Christmas long ago
That bridged men back to God,
No Christmas now can e'er exist
Without His Holy nod.
So Christ embodies Christmas
As much now as He did then –
It's only men who've been misled
O' give Him first place again!
Julie Winton, Christmas 1980
Thanks Julie for being such a friend when I was a University student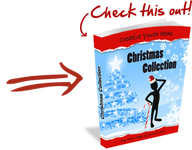 Christmas Collection


Games and Activities helping youth discover the Reason for the Season.
Get more than 200 creative ideas for planning a Youth Christmas celebration or Christmas Party party. You can immediately download my best Christmas Icebreakers, games, illustrations, Christmas activity ideas AND MUCH MORE in a useful ebook!

=> Tell me more about the Christmas Collection


| | |
| --- | --- |
| | Rate This Post by Clicking the Stars : |