Attributed to Paul Harvey?
Anna May Jarvis, quote: "Mother's Day has nothing to do with candy. Candy is junk. You give your mother a box of candy and then go home and eat most of it yourself…."
Anna May Jarvis, quote:
"A maudlin, insincere printed card or a ready-made telegram means nothing except that you're too lazy to write to the woman who has done more for you than anyone else in the world. You ought to go home and see your mother on Mother's Day. You ought to take her out and paint the town red…."
Anna May Jarvis, still quoting now:
"You ought to give her something useful, something permanent. A lot of mothers are sleeping on mattresses that are as hard as rocks. Maybe she needs new eyeglasses, comfortable shoes, a pair of slippers, or better lighting fixtures. Is she sleeping warm at night? Could she use an eiderdown? Maybe the stairs in her home need fixing. . . ."
What about flowers, Anna May?
"Flowers are about half dead by the time they're delivered."
And Anna May goes on to say that she won't rest "until Mother's Day becomes the personal family Memorial Day it was intended to be."
If anyone had the right to speak out against the commercialization of Mother's Day, it was Anna May Jarvis. That second Sunday of thoughtfulness each and every May was Anna's idea in the first place. Anna May Jarvis was the Mother of Mother's Day. Anna May Jarvis, born May 1, 1864.
She was a minister's daughter, described as a quiet, studious girl in school who liked everyone and whom everyone liked. Anna was just two weeks forty-two, working for a life insurance company in Philadelphia, when her mother died on the second Sunday of May, 1906. Friends noticed a change in Anna in the months following that unhappy occasion. No longer the gentle, easygoing woman they knew, Anna became obsessed with but one desire: to see her mother and motherhood honored annually throughout the world. After more than a year of careful planning, Anna arranged the first Mother's Day church service-May 10, 1908-at St. Andrew's Methodist Church in Grafton, West Virginia, where Anna's mother had taught Sunday school. Anna worked hard to promote her idea. A year after that first memorial service in West Virginia, Philadelphia became the first city to proclaim an official Mother's Day. Three years passed. West Virginia made Mother's Day a statewide observance. One year later, in 1914, President Woodrow Wilson signed a proclamation from Congress-a document recorded as Public Resolution 25-to establish the second Sunday in May as Mother's Day forevermore.
And it had all begun with Anna. But Anna, now fifty years old, was not content with her victory. She retired from her job at the insurance company to spend her remaining thirty-four years, and her entire fortune of over a hundred thousand dollars, campaigning against the commercialization of the day she had founded in honor of motherhood. She interrupted florists' conventions to express her remorse at their "profiteering"; wherever there was a forum for her cause, she spoke out. Then one day, when she was too old and too tired to speak out, she was placed penniless, deaf and blind in a West Chester, Pennsylvania, sanitarium. She died there in November of 1948; she was eightyfour.
And if the story of the woman who invented Mother's Day is made even more poignant, it is by the fact that she, Anna, would never benefit from that time of remembrance. For Anna May Jarvis-the Mother of Mother's Day, who devoted her life and her fortune to its reverent observance-was never married and was never a mother.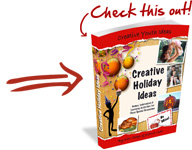 Holiday Collection


Games and Activities in Celebration of common Holidays.
Creative Holiday Ideas has over 300 pages of ideas to help you plan not only your next Mother's Day event, but also other common holidays. If you've ever wondered what you're going to do for the holidays and how you're going to do it, this resource is for you.
=> Tell me more about the Holiday Collection


| | |
| --- | --- |
| | Rate This Post by Clicking the Stars : |