Do you evaluate your youth program simply by the numbers attending? What is a good measurement? It's something to think about. How do you evaluate the effectiveness of your youth program?
Here are some other options…. YOU DECIDE!
By church activity participation?
By the fruits of the spirit displayed by the youth? (Gal 5:22-23)
By comparison to your own spiritual development?
By how Christlike they are? (I Cor 11:1)
By the fact that they have grown in their faith, making visible progress?
By the way they treat others?
By what they talk about most?
By their priorities?
By how they respond to me when I bring up spiritual things?
By spiritual depth?
By consistent spiritual disciplines like Bible reading, quiet times, prayer?
By the types of questions they ask?
By feedback from parents?
By their service to others and in church?
By spiritual knowledge?
OTHERS? Share your comments..
.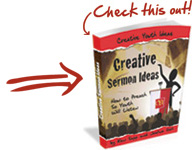 Get Help on Your Youth Sermons
Creative Sermon Ideas
This 100 Page e-Book Includes All The Help You Need To Prepare Powerful, Life-Changing Youth Sermons That Will Turn Your Preaching Around And Make Your Youth Sit Up And Listen! Includes 7 Complete Sermons.
–> I want More Youth Sermon Ideas…


| | |
| --- | --- |
| | Rate This Post by Clicking the Stars : |