An Athlete's Twenty-Third Psalm
By Teri Burton
The Lord is my Coach;
I shall never be defeated.
He trains me to run His way,
With purpose in every step.
He conditions my mind and my body
To be pure for the sake of His glory.
Yes, though I face tough competition,
I can run and not get tired; for You are with me.
Your Word and Your Spirit, they energize me.
You prepare a strategy before me in the presence of my opponents;
You crown my head with victory;
My heart's inspired!
Surely confidence and victory will be with me all the days of my life.
And I shall look up to my coach forever.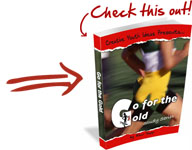 Go for the Gold
Need an evangelistic Youth Camp/ Bible Study Series with an Olympic Theme?
What is salvation all about? What does it mean to be saved? This sports themed Bible Study / Camp Curriculum uses the Olympic Flag to introduce the concepts of sin (black circle), forgiveness (red circle), purity (white background), spiritual growth (green circle), heaven (Yellow Circle) and (Baptism) blue circle.
-> Tell me about "Go for the Gold"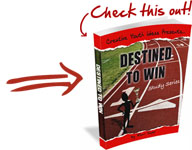 Destined to Win
Need a Youth Camp/ Bible Study Series on "Running the Christian Race"?
The race as a metaphor for the Christian life is used in several places in the Bible. This series is a great follow up for new Christians or to re-emphasize the basics of our spiritual Journey in the Faith. This Bible Study / Camp Curriculum has a sports theme and is great for athletes as well as a tie in to the youth Olympic Games.
->Tell me about "Destined to Win"


| | |
| --- | --- |
| | Rate This Post by Clicking the Stars : |