A "lock in" is an overnight party. The doors might not be literally locked, but no-one goes in or out. Use this comprehensive lock-in checklist to help you plan.
Form a lock-in planning committee
Who needs to be involved in the planning for the lock-in? (i.e. parents, youth workers, youth, pastoral staff, others?)
What are the roles in the planning and preparation for the lock-in and who will be responsible for each role?
Decide your Goals for the lock-in
What is the purpose for the lock-in.
Who is the Target group? Who do you want to attend the lock-in? (age group, Christians / seekers, friends of youth, etc.)
Write a clear description of the lock-in and its goals.
Plan the Details for the lock-in
What is the official name of the lock-in? Does the lock-in name clearly communicate the purpose and content?
When is the date and Time?
Where is the venue for the lock-in? (Church, community center, skate rink, school, multiple locations?) What are the directions to the venue? Is there a map available? About how long will it take travel there? Is it difficult to find?
Tentative lock-in Schedule / Program
What activities will fill the time during the lock-in? OVER PLAN and have ALTERNATIVES.
(e.g. Icebreakers, Bible study, Board games, video games, Movies, Large Group Games, Skating, Sports, Swimming, Bowling, Volleyball, Basketball, Water Balloon fights, Discussions, Community Service, Dodge ball, capture the flag, floor hockey, carpetball, etc.) If you are using another venue, doing an on site inspection in advance will help you better prepare for lock-in games and activities.
Set a bed-time and a wake-up time. Don't expect the teens to actually sleep during a lock-in, but do have have a time when everyone will wind down with quiet activities and an opportunity for those to sleep who might wish to do so. Also set a wake-up time, especially if you'll be serving breakfast in the morning.
Lock-in Finances
What's the expected actual cost of the lock-in and activities?
What is the budget for the lock-in?
What is the cost to participants?
Are there sponsors / sources of supplies or food for the lock-in?
Are there scholarships available?
Does the cost change for early or late sign-ups?
Does the cost go down if kids get their friends to sign up for the lock-in? Are there multiple levels of discounts tied to the number of friends who sign up?
When is payment due for the lock-in?
Lock-in Arrangements
Reservation of Venue?
Recruit Adult chaperons / volunteers for the lock-in – A good rule of thumb is to have one chaperon (parent/youth pastor/leader) for every eight youth that attend. (Some groups may require more or less supervision)
Are there to be Special speakers / special items or programs utilizing outside people?
Someone trained in first aid or medicine on site in case of an injury.
What food will be available at the lock-in? Dinner? Snacks? Breakfast? Quantity? Meals and snacks should be designed to meet the needs of all attendees. Are there any special dietary requirements or restrictions?
Transportation requirements for the lock-in?
What do participants need to bring to the lock-in? (sleeping bag, pillow, snacks, games, swim suit, towel, toothbrush and toothpaste, comfortable clothing and shoes?)
What contact information is available for parents of youth attending the lock-in?
Contact information for those responsible for major roles and duties?
Address and contact of nearest medical emergency aid?
Sleeping Arrangements for the lock-in – Provide separate rooms for guys and gals sleeping arrangements. Rooms need to have a monitor.
What time should youth arrive at the lock-in and be picked up? Where do parents drop their kids off and pick them up?
What Rules will be enforced?
Create an 'Incident Report' form for any injuries, accidents or security breaches that occur during the lock-in?
Lock-in Publicity
Promotional fliers
Church Bulletin
Church / youth Calendar or events
Invitations
Sign-up form / Permission slips
Postcards to invite friends
Posters / Bulletin Boards
Website / emails
Local newspaper
Equipment and resources needed for the Lock-in
Are the tables and chairs available in the meeting rooms sufficient?
What is the capacity of the sleeping area(s)?
Sound system? Music?
Special lighting?
Special equipment?
Board games, sports equipment, materials for games?
Parking space? Drop off and pick-up point for parents?
Security?
Requisition forms for supplies, Checkout / return out form for any equipment or supplies that are borrowed?
Final Lock-in Preparations
Final Program schedule for the lock-in
Lock-in Attendee list – Permission slips must be signed by parents / guardians before teens are allowed to attend the lock-in. Keep the contact information together in a folder and available at all times in case of an emergency. Make a master copy and a standby copy.
Sponsor list
Emergency contacts
Fire, medical, and police department numbers
What is the name, address and phone number of the nearest hospital or urgent care facility? (This information should be included on your health form/parent release.). What is the most direct route from the lock-in venue?
What are the venue management contacts?
Prepare a Parent's contact list.
Prepare a Volunteer list with assigned roles and contact numbers?
What transportation arrangements are required. Contact numbers?
Lock-in Volunteer Training
Screen Volunteers
Meet with volunteers as a group before the lock-in.
List responsibilities and contact numbers for each lock-in volunteer including a 'Chain of Command' – who reports to whom, who makes final decisions?
Make sure lock-in volunteers are clear on the rules.
Familiarize lock-in volunteers with the layout of the venue – especially exits, potential problem areas or hazards.
Assign people in your team to be responsible for cleaning up any spills/ broken glass as soon as it happens?
Trouble shoot with lock-in volunteers. What things could happen during the lock-in and how should the volunteers respond?
Have people and vehicles on standby to travel with youth in case of emergency.
Instruct lock-in volunteers in how to complete the 'Incident Report' form for any injuries, accidents or security breaches that occur during the lock-in and what information is needed. They need to get signatures of any eyewitnesses.
Go through the entire lock-in schedule. What resources are needed for each item on the schedule and who is responsible to make sure they are ready?
Lock-in Volunteers must be flexible and ready to help out as needed.
The Day of the Lock-in
Set up for games / activities
Delivery and storage of food and supplies
Post the rules in the venue where you're hosting the lock-in. Go over the lock-in rules as soon as the teens arrive. Make your expectations clear. This will help reduce conflicts that might arise during the night.
Identify key volunteers to participants, especially the medical person.
Are all areas of your venue (including outdoor areas) adequately lit – especially for night time events?
Are floor surfaces clear of trip hazards and electrical cords?
Are all security, staff and volunteers easily identified with either a uniform, t-shirt, ID badge or cap?
Are Emergency/Fire exits clear of any obstructions and will they have adults monitoring them?
Are there first-aid supplies, fire extinguishers? If so, where are they located?
Are all exits monitored?
Prepare a secure area to store any bags until they are collected at the end of the lock-in.
Clean up – It's important to leave the hall or building in the same shape as you found it. Involve everyone in this process.
Have people prepared to stay later after the lock-in as not everyone will leave immediately, parents may not pick up young people on time, or transport may be late.
After the lock-in
Return rental or borrowed items
Thank everyone who made the lock-in possible
Meet with the lock-in planning committee and evaluate. Ask: What worked well? What could we have done differently? What did we learn from this process?
Review any incident reports completed and see what steps can be taken to prevent similar incidents happening at the next lock-in.
Complete and file a written event summary including any resources and suggestions for future planning of lock-ins.
Special Cautions for a lock-in
Over-plan your activities so the teens won't get bored during the lock-in.
Plan Bibles studies and spiritual discussions at the beginning of the lock-in when people are most alert and decisions are not clouded by lack of sleep or sugar highs!
If youth are of driving age it is recommended they not be allowed to drive home from the lock-in as they might not get enough sleep to take care on the roads.
Sample lock-in rules
All youth must sign indicating their agreement to these rules.
Unless other arrangements are made with a parent or guardian, each student is expected to stay the entire night, and will only be released to their parent or guardian.
No one is allowed to attend the lock-in without a signed parental permission slip and contact numbers. Parents may be called to verify if there is doubt.
Lock-in participants will not be allowed to go outside of church or venue without adult supervision, and if this rule is broken the parent will be called and expected to pick up their teen regardless of the hour.
NO personal video games, trading cards, or electronic devices
Any possessions are bags must be surrendered at entrance to the lock-in venue. Special medication or required items should be indicated on the parent permission form.
No illegal drugs, alcohol, dangerous materials, or firearms.
All lock-in participants must respect others' physical boundaries. Inappropriate behavior (i.e.
physical intimacy or sexual harassment) is not permitted.
Same sex sleeping quarters will be provided. Lights out/quiet hours will be observed in these areas.
It is expected that all lock-in participants (youth and adults) will participate in the program. Adequate free time will be scheduled for fellowship and socializing.
Violation of these rules will result in disciplinary action and may include the participant being asked to leave the lock-in. Parents will be called to pick them up.
Take care of yourself
Be considerate and respectful of other participants and leaders
Be respectful of the meeting place.
Clean up after yourself.
THE ENFORCEMENT OF THESE LOCK-IN RULES IS EVERYONE'S RESPONSIBILITY. I have read the above rules and agree to abide by them.
This lock-in checklist is a guide only. It contains general information and is not intended to represent a comprehensive checklist.
Have suggestions to add to the lock-in checklist? Any words of wisdom? Please click on the comments link below and share with us your wisdom and experience in regards to organizing lock-ins for your youth!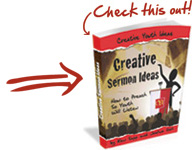 Get Help on Your Youth Sermons
Creative Sermon Ideas
This 100 Page e-Book Includes All The Help You Need To Prepare Powerful, Life-Changing Youth Sermons That Will Turn Your Preaching Around And Make Your Youth Sit Up And Listen! Includes 7 Complete Sermons.
–> I want More Youth Sermon Ideas…


| | |
| --- | --- |
| | Rate This Post by Clicking the Stars : |