BASIC SERMON OUTLINE and FOOD FOR THOUGHT
Numbers 28:1-30:16
Summary: God, through Moses, repeats the instructions for the offerings and the vow to insure faithfulness upon entering Canaan.
28:1-29:40 Faithfulness in Worship
A. vs. 1-8: daily offerings
– God's reminder to Israelites to remain faithful through the giving of burnt offerings in the morning and in the evening along with a grain offering and drink offering which pleases God.
B. vs. 9-10: Sabbath offerings
– two lambs sacrificed along with a grain and drink offering
C. vs. 11-15: monthly offerings
– extra burnt offering (two bulls, one ram and seven lambs) along with daily offerings on the first day of the month
D. 28:16-29:40: Offerings for Feast days
1) Festival of Passover
– presentation of offerings to be offered on each of seven days of festival with assembly of people oncfirst and seventh days (prohibition against eating leavening)
2) vs. 20-31: Festival of First Fruits – assemblying of Israelites on first day of festival to celebrate the new harvest
3) 29:1 -6: Festival of Trumpets – trumpet called shofar sounded to signal the beginning of new year called Rosh Hoshana with special times of recommitment
4) vs. 7-11: Day of Atonement – assembling of people in humility with special sin offerings for the nation Israel (fasting requirement)
5) vs. 12-40 Festival of Tabernacles – a seven-day festival in commemoration of God's provision in the wilderness with daily offerings involving 189 animals
30:1-16 – Faithfulness in our Word
– absolute faithfulness to promises made to Lord except for special cases involving young daughters. betrothed women, wives
Points to Emphasize for Youth
1. Worship is very important to God and must be conducted according to His standards.
2. Because of Jesus' perfect sacrifice on our behalf, we are free to offer back to Him our lives, our service, our compassion for others, our prayers.
3. Our promises to God should never be entered into lightly as he considers them binding.
Practical Applications for Youth:
1. Do I take time to worship God through total attentiveness and openness?
2. Do I sense how very serious God considers sin and do I spend time in confession and restoring fellowship?
3. Like the feast days of the Jews, are Christmas and Easter times of reflection on God's love for me?
4. Is my word dependable?
Parting Thought for Youth
Walter Knight's Master Book of Illustrations included some resolutions for any time it our life: "I will like Paul forget those things which are behind and press forward, like David lift up mine eyes unto the hills from whence comethy my help; like Enoch to walk in daily fellowship with my heavenly Father, . . like Job, be patient under all cicumstances; like Caleb and Joshua refuse to be discouraged because of superior numbers, like Andrew, strive to lead my brother into a closer walk with Christ… Realizing that I cannot hope to acheive these objectives on my own strength. I will rely upon Christ, for I can do all things through Christ which strenqtheneth Me'"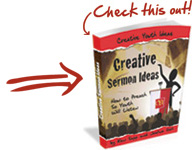 Get Help on Your Youth Sermons
Creative Sermon Ideas
This 100 Page e-Book Includes All The Help You Need To Prepare Powerful, Life-Changing Youth Sermons That Will Turn Your Preaching Around And Make Your Youth Sit Up And Listen! Includes 7 Complete Sermons.
–> I want More Youth Sermon Ideas…


| | |
| --- | --- |
| | Rate This Post by Clicking the Stars : |