Activity
If you can obtain a puppet or two, bring them to your class. Using paper lunch sacks, or socks, provide children with materials to make puppets of their own. Have children design and name their puppets. You might give them a couple of stories to act out with their puppets. Another options is to have the children each make the puppet introduce itself to the rest of the class. You might give awards for the most unusual, best dressed, funniest, puppets. etc.
After all the puppets have been created and all the kids have used them a bit, ask the children the following question:
Debrief
"Who decides what the puppet does, the puppet or the person who's hand is in the puppet?"
Application
Of course the puppet can't make any decisions. It can only do what the hand makes it do. Nothing can hold back God's "Hand" as He does what he pleases like a hand in a puppet. But God gives us some choices and we can resist the hand of God in our lives.
Our task in doing God's will is to present ourselves to him (Romans 12:1&2) and to be filled with Him (Ephesians 5:18) so he can accomplish the tasks for which we were created. (Daniel 4:35, Proverbs 21:1)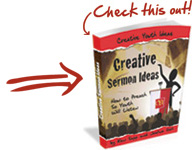 Get Help on Your Youth Sermons
Creative Sermon Ideas
This 100 Page e-Book Includes All The Help You Need To Prepare Powerful, Life-Changing Youth Sermons That Will Turn Your Preaching Around And Make Your Youth Sit Up And Listen! Includes 7 Complete Sermons.
–> I want More Youth Sermon Ideas…


| | |
| --- | --- |
| | Rate This Post by Clicking the Stars : |