A good youth sermon title is a hook on which the message can hang and be easily retrieved from memory. A really good title will capture the interest of the youth before you even get up to preach the youth sermon. Here are some key components of a good youth sermon title:
A good youth sermon title must relate to the message of the sermon in some way.
Of course this always implies that the sermon must have a meaningful message to begin with. Whether the title is taken from the Bible text, a major illustration, or some other hook, youth should see the connection when the sermon is completed. In fact, some have said that the best title is ONLY fully understood at the end of the youth sermon.
A good youth sermon title should not promise too much or give the whole sermon away.
With some sermon titles, youth don't even need to listen to the sermon because you are telling them the main message or key learning point before they even listen to the sermon
A good youth sermon title should pique the youth's interest and keep them engaged and curious.
It should help to orient the youth before they get to the church. Your sermon title should give the youth enough to draw them in before the sermon begins, but you don't want to give away too much so your sermon is anti-climatic.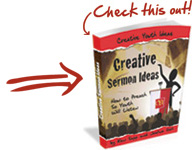 Get Help on Your Youth Sermons
Creative Sermon Ideas
This 100 Page e-Book Includes All The Help You Need To Prepare Powerful, Life-Changing Youth Sermons That Will Turn Your Preaching Around And Make Your Youth Sit Up And Listen! Includes 7 Complete Sermons.
–> I want More Youth Sermon Ideas…


| | |
| --- | --- |
| | Rate This Post by Clicking the Stars : |