"One of our family's all-time favorite pets was a dog named Scampy. He was a black-and-tan, rag-eared mutt, part cocker, part Schnauzer, part whatcha-ma-call-it. When he was six months old, he was hit by a car and suffered a broken hind leg, which was put in a splint. Gangrene developed, and the veterinarian recommended euthanasia. My children, however, full of love and affection for Scampy, lobbied for amputation, and their tearful motion, put to a vote in a family council, was carried.
To my pleasant surprise, Scampy adjusted beautifully. Like a tricycle with the wheels reversed, he developed excellent balance, and although running in unorthodox motion, he moved amazingly fast. Squirrels scattered when he flew off the back porch as though propelled by a pogo stick.
Friends of the children called him Hopalong or Tripod or Crip, among other names, but Scampy had a couple of advantages over people: He didn't understand their jibes, and he didn't know that he had a disability. He lived on courageously for many years, doing the best with what he had. People who can do the same are, I am convinced, the winners in life."
Fred Bauer "Dog Tales – Lessons in Love" from Guideposts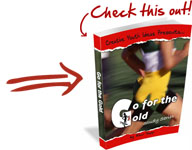 Go for the Gold
Need an evangelistic Youth Camp/ Bible Study Series with an Olympic Theme?
What is salvation all about? What does it mean to be saved? This sports themed Bible Study / Camp Curriculum uses the Olympic Flag to introduce the concepts of sin (black circle), forgiveness (red circle), purity (white background), spiritual growth (green circle), heaven (Yellow Circle) and (Baptism) blue circle.
-> Tell me about "Go for the Gold"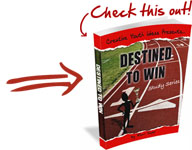 Destined to Win
Need a Youth Camp/ Bible Study Series on "Running the Christian Race"?
The race as a metaphor for the Christian life is used in several places in the Bible. This series is a great follow up for new Christians or to re-emphasize the basics of our spiritual Journey in the Faith. This Bible Study / Camp Curriculum has a sports theme and is great for athletes as well as a tie in to the youth Olympic Games.
->Tell me about "Destined to Win"


| | |
| --- | --- |
| | Rate This Post by Clicking the Stars : |