The life of Jesus is bracketed by two impossibilities:
a virgin's womb and an empty tomb.
Jesus entered our world through a door marked "No Entrance"
and left through a door marked "No Exit."
And for all who feel it is impossible to overcome the situations facing them
—sickness, death, divorce, persecution, loneliness, despair, addictions—
Jesus stands at the human door marked "No Way" and knocks.
-Peter Larson
I wonder what impossible situations you are facing this season? Relationship issues? Ministry Issues? Parenting Issues? Job? Finances? Spiritual burnout? Or any of those seemingly impossible situations mentioned by Peter Larson in the above quote?
Whether they are minor or major, Jesus has an answer!
Even for those that seem impossible, God has an answer!
Isn't that the real story of Easter? God did the impossible, to reconcile us with him!
And he promises that he will do impossible things in us and through us?
Only a few years back I was in one of those impossible situations, like the stone rolled in front of the tomb, a door was closed in my life that I thought would never be reopened. It was one of the darkest moments of my life!
It was a time when I was confronted with some harsh realities of my life, a time of personal despair and for a while I lost all hope.
Many of those, treasured as close friends – deserted me. But by God's grace a few very special saints persevered with me and saw me through until the grace of God could bring a ray of hope to a new day, to a new chapter in my life.
Easter morning came to my life, and every day I am more amazed with the grace, the love, and the sacrifice Christ made to bring about Resurrection and Reconciliation, not only in my life, but in the life of every single sinner who will trust Him!
And just when I find myself back in a locked room, like the disciples after the crucifixion, focused within instead of the world outside, he suddenly appears and reminds me of the holes in his hands and feet and side – of the sacrifice he made for me. And he reminds me HE IS ALIVE.
Not only is he alive, but he wants to live through me to bring his love to a world outside that desperately needs it. He asks me to put aside my doubts and simply trust and obey!
He'll take care of everything else!
I wonder what it is that you consider impossible in your life?
Easter reminds us that God makes a habit of doing the impossible!
Will you trust him with the impossible in your life this Easter?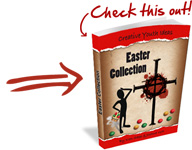 Easter Collection


Games and Activities in celebration of Easter.
Get more than 80 creative ideas for planning a Youth Easter celebration or Easter Party. You can immediately download my best Easter Icebreakers, games, illustrations, Easter activity ideas AND MUCH MORE in a useful ebook!
=> Tell me more about the Easter Collection


| | |
| --- | --- |
| | Rate This Post by Clicking the Stars : |