Scripture: Zechariah 2:10
"Sing and rejoice, O daughter of Zion; for lo, I come, and I will dwell in the midst of thee, saith the Lord."
What a wonderful promise we are reminded of each Christmas!
For we know that God, through Christ, has come and is coming again to establish his Kingdom on Earth.
Christmas is truly a joyous time. Christmas gives us the opportunity to be with family and friends. But we must make the time to share the true meaning of Christmas with those we love. It is all too easy to become overwhelmed by the secular vision of Christmas, the one that only sees Santa Claus, parties, and presents.
I urge each of you to find the quiet time you need for your family and friends – a time for prayer, singing your favorite Christmas hymns, or simply enjoying a walk in the countryside. While you are enjoying activities together, you have the perfect opportunity to share your love of Christ with those around you. Through this personal time, quiet or not, invested lovingly with those you care for, you can make Christmas more enjoyable than you ever would while being caught up in the demands of shopping and socials.
God has given us his promise. Celebrate Christ's coming. It is truly a marvelous promise.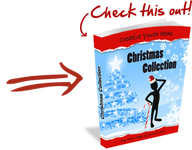 Christmas Collection


Games and Activities helping youth discover the Reason for the Season.
Get more than 200 creative ideas for planning a Youth Christmas celebration or Christmas Party party. You can immediately download my best Christmas Icebreakers, games, illustrations, Christmas activity ideas AND MUCH MORE in a useful ebook!

=> Tell me more about the Christmas Collection


| | |
| --- | --- |
| | Rate This Post by Clicking the Stars : |