Scripture: Luke 2:14
Let's try to imagine going back in time to that glorious event when the heavenly host met with the shepherds. We read that the glory of the Lord shone around them. This manifestation of God's glory was so sudden and so extraordinary that these shepherds were terrified.
How many of us would behave differently? We would probably think that beings from another planet had finally arrived, and we were their first victims.
But that was not true during the first Christmas.
The angel spoke immediately asking them not to be afraid. What they witnessed was the true manifestation of the glory of God. The Good News was proclaimed about the Messiah. To top it all off, the shepherds got a preview of the heavenly atmosphere as the angels praised God saying: "Glory to God in the Highest, and on earth peace to men on whom his favor rests. "
Here we have the hymn called the Gloria in Excelsis Deo. The angels could not contain their desire to praise God, so they burst into a chorus that gave us the foretaste of future glory that we will experience forever in the presence of a glorious God.
There is one thing for us to do. As we give glory to God, we should not forget that God wants "on earth peace to men on whom his favor rests."
Christmas is a great time to expose others to the glory of God so that they may find peace in Him.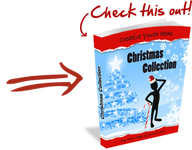 Christmas Collection


Games and Activities helping youth discover the Reason for the Season.
Get more than 200 creative ideas for planning a Youth Christmas celebration or Christmas Party party. You can immediately download my best Christmas Icebreakers, games, illustrations, Christmas activity ideas AND MUCH MORE in a useful ebook!
=> Tell me more about the Christmas Collection


| | |
| --- | --- |
| | Rate This Post by Clicking the Stars : |