Scripture: Luke 2:25-32
I wonder if we'll spend Christmas in Singapore or at home this year?
The kids will be disappointed if we can't buy them the presents they have been wanting…
It's only a few more weeks till Christmas and we haven't planned out the meal or even figured out exactly how we will spend it.
We have so much going on this Christmas with the choir practices for the cantata, the company parties that we have to go to, Christmas shopping, decorating … where will we get all the time?
Does this sound like Christmas around your house?
We get so busy with all of the duties and events of the Christmas season that it's hard to find time to stop for even a moment to be silent and just listen to the quiet voice of the Holy Spirit. But that is what a man by the name of Simeon did, and a wonderful revelation was given to him. His heart was filled with joy when he got to witness the baby Jesus, sent to be the Savior of all mankind.
Find the time this Christmas season to be still and listen for your quiet voice.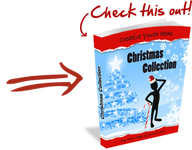 Christmas Collection


Games and Activities helping youth discover the Reason for the Season.
Get more than 200 creative ideas for planning a Youth Christmas celebration or Christmas Party party. You can immediately download my best Christmas Icebreakers, games, illustrations, Christmas activity ideas AND MUCH MORE in a useful ebook!
=> Tell me more about the Christmas Collection


| | |
| --- | --- |
| | Rate This Post by Clicking the Stars : |