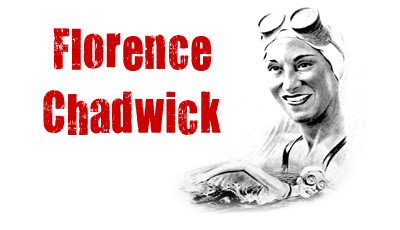 This coming 4th of July, we want to remember Florence Chadwick and celebrate her determination some 60 years before. It wasn't the day of her greatest triumph, it wasn't her most glorious moment. It was the time of her greatest defeat. It was also the time she decided never to give up ever again. As we celebrate Independence Day, let us also remember our independence from a life of sin and to never lose sight of Jesus, the author and perfecter of our faith.
Focused on the Goal
Her goal was the California coastline a 34 km swim from Catalina Island. It was no more distant than the width of the English Channel, a goal she had already conquered as the first woman to swim it from both directions. Although she was a seasoned long-distance swimmer with incredible stamina, she trained arduously to prepare herself to achieve her goal.
July 4th, 1952
Millions watched on national television, as 34 year old Florence Chadwick began her swim. The water was icy cold; the fog so thick she could hardly see the support boats alongside her. As the hours passed, she was repeatedly stung by jellyfish. Sharks had to be driven away with rifles. Yet she pressed on, determined to achieve her goal.
15 hours later
Numbed with the cold, she was ready to give up. Her mother and her trainer were in a boat at her side. "Florence. You are almost there. Don't give up now." Encouraged by her mother's admonition, she continued to swim.
Failure
Fifteen hours and fifty minutes after she began her swim, the support team reluctantly agreed to pull Florence from the water. Several hours later, after she warmed up, she realized she had given up only a few hundred meters from her goal! If she had continued just a little while longer, the waves would have carried her to the beach. "If I could have just seen the land for myself, I would have made it!". She told reporters it was not the sharks, the fatigue, or even the cold water that defeated her. She had been defeated by the fog alone. It had obscured her goal and blinded her reason, her eyes and her heart.
Never give in to defeat.
1952 was the only time Florence Chadwick ever quit. Two months later she swam that same channel. The water was still ice cold and still inhabited with sharks. Once again fog obscured her view. But this time she pressed on, BELIEVING that somewhere beyond that fog, her goal would be reached. Not only was she the first woman to swim the Catalina Channel, but she beat the men's record by two hours!
Take It to the Next Level
Lessons to be learnt
The Journey
In every race there are stages. In the beginning there is anticipation, excitement, eagerness to get started. Adrenaline and energy are high. Then there is the routine. A pace is set. Things proceed as expected. Practiced experience, skill, and training prevail. Then there is the struggle, the time when you hit the proverbial wall, when there is the urge to quit and only discipline and tenacity carry you through. Finally there is the finish. The moment when the goal is within your sight and grasp, that last rush, that knowing that the end is near if you just press on a little bit more. And ultimately, there is the joy, the satisfaction that comes when you have completed that which you set out to do. The same is true of our spiritual lives. The Christian life is a journey. We've each been called to a journey "And let us run with endurance the race that God has SET BEFORE US" (Hebrews 12:1) And what do you do when you've lost your direction, when the journey is confusing? "Let us fix our eyes on Jesus, the author and perfecter of our faith" (Hebrews 12:2)
Training
Training is essential to success. Training is not a single event, completed and done. Training is not something done once-in-a-while, when time allows. And training certainly isn't something that is only done when you feel like it. Talk to any successful athlete in any sport and they will tell you of their discipline of training to reach "a goal". Goals are a key aspect of training. Training always has a goal, an objective in mind. And depending on that goal, your training will be different. Swimmer, runners, and various athletes train differently. Each needs a different set of muscles, a different set of skills. Consistent training builds the muscles, the stamina, the skills to reach the goal ahead. "For physical training is of some value, but godliness has value for all things, holding promise for both the present life and the life to come." (1 Timothy 4:8; See also 1 Corinthians 9:24-27) And what do we do when our discipline is lacking? When the training has been neglected? When we simply don't feel like it? "Let us fix our eyes on Jesus, the author and perfecter of our faith"
Purpose
We each have a goal. Even Christ had a goal set before him and a journey to get there. That purpose for us is to bring glory to God. It is to do what he created us to do. We are each here for a reason. We each have a place in God's divine scheme of things. "For you created my inmost being; you knit me together in my mothers womb. I praise you because I am fearfully and wonderfully made; your works are wonderful, I know that full well. My frame was not hidden from you when I was made in the secret place, when I was woven together in the depths of the earth. Your eyes saw my unformed body; all the days ordained for me were written in your book before one of them came to be." (Psalm 139:13-16) What do we do when we have lost our purpose? Or never found it in the first place? When we are clueless and lost? "Let us fix our eyes on Jesus, the author and perfecter of our faith"
Endurance
Endurance comes only when you're willing to press on through the routine, the struggles, the urge to give up, and the pain knowing that at the end there will be joy. It's a choice to not merely start, but to finish. It is something that is developed by constantly pushing your limits. "Run in such a way to get the prize I train my body and make it my slave" (1 Corinthians 9:24-27) What do we do when we it seems that we simply cannot go on? When our strength is failing? "Let us fix our eyes on Jesus, the author and perfecter of our faith"
Focus
It's not enough to know that life is a journey toward a goal, to fulfill a purpose. It's easy to get distracted, to give up, to lose the will to move ahead. We must look to Jesus, hear His words of encouragement, and follow in his footsteps. The likelihood of failure is great when we lose sight of Jesus. When the risks, the dangers, the people around us cloud our view, what do we do? "Let us fix our eyes on Jesus, the author and perfecter of our faith"
Failure
All of us find ourselves in situations in life where we seem to be in over our heads, when we're being tested or tried beyond our capabilities, where we're overwhelmed, where we don't think we can do it, when we feel like we can't go on. Whether it's a relationship, a course in school, a job, a health issue, overcoming a fear, or recovering from a mistake/ failure, God is there with you in your situation. We all go through times when things seem beyond our ability to cope, when we have been doing the best that we can, but it just doesn't seem like it will be good enough and we are afraid of drowning. There's solid ground ahead. The Rock of Ages will be there for you to stand upon. Failure is not the end. It's an opportunity to begin again with greater clarity, with more experience, with renewed determination to finish the course. "He who has begun a good work in you will complete it until the day of Jesus Christ." (Philippians 1:6b NAS) How do we go on? Where do we find the endurance to stay on the course set before us? "Keeping our eyes on Jesus, on whom our faith depends from start to finish."
Witnesses
We are not alone. Crowds of winners, of finishers, have gone on before us and showed us the way. (Hebrews 12:1) There are people alongside, with you to support you now. There will be others to follow behind you. Press on for all of them. Don't let them down. Set the pace for others to follow so that you can say as Paul said, "Imitate me as I imitate Christ" (1 Corinthians 4:16, 1 Corinthians 11:1) Most importantly, press on for Christ. "I press on toward the goal to win the prize for which God has called me heavenward in Christ Jesus." (Philippians 3:14) How can we be a testimony to those around us? "Keeping your eyes on Jesus, on whom our faith depends from start to finish."
Applying it to life
What is God's purpose for your life? What is your goal? How can you find it?
Where are you in your Christian journey?
To what purpose are you training? What training do you need? How will you get it?
Have you lost sight of your goal?
Have you failed, been distracted, given up?
How can you start again, resting in Christ's grace, and depending on his guidance and strength?
How can you stay focused on God's calling for your life?
Find someone who has gone before you to be a guide. Find someone to press on alongside you, to be accountability partners in your journey. Reach out to someone you can guide, that you can encourage and support in their own journey of faith.
Scripture Reference
"Let us fix our eyes on Jesus, the author and perfecter of our faith" – Hebrews 12:2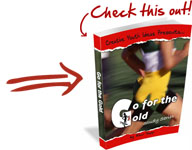 Go for the Gold
Need an evangelistic Youth Camp/ Bible Study Series with an Olympic Theme?
What is salvation all about? What does it mean to be saved? This sports themed Bible Study / Camp Curriculum uses the Olympic Flag to introduce the concepts of sin (black circle), forgiveness (red circle), purity (white background), spiritual growth (green circle), heaven (Yellow Circle) and (Baptism) blue circle.
-> Tell me about "Go for the Gold"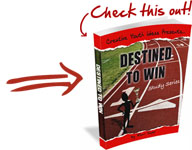 Destined to Win
Need a Youth Camp/ Bible Study Series on "Running the Christian Race"?
The race as a metaphor for the Christian life is used in several places in the Bible. This series is a great follow up for new Christians or to re-emphasize the basics of our spiritual Journey in the Faith. This Bible Study / Camp Curriculum has a sports theme and is great for athletes as well as a tie in to the youth Olympic Games.
->Tell me about "Destined to Win"


| | |
| --- | --- |
| | Rate This Post by Clicking the Stars : |