"Therefore, since we are surrounded by such a great cloud of witnesses, let us throw off everything that hinders and the sin that so easily entangles, and let us run with perseverance the race marked out for us."  
Hebrews 12:1
There is no better feeling in the world than the joy of winning a race you were never expected to win!
Just ask Jenny Spangler. She won the women's marathon at the U.S. Olympic Trials in February 1996, earning the right to compete at the Summer Olympic Games in Atlanta.
At the time of the trials, Spangler was qualifier number 61, which meant that 60 runners had entered the race with faster times than hers. No one had ever heard of her – and no one thought she could maintain a winning pace when she passed the leaders at the 16-mile mark.
Spangler had few successes to her credit. She had set an American junior record in the marathon during college, but then she left the sports scene after a stress fracture dashed her hopes in the Olympic Trials of 1984. Abandoning the sport after she ran poorly in 1988, she returned to school and earned a master's degree in business administration. She ran only two marathons between 1988 and 1996.
At the marathon trials, she was such an unknown that the second and third place finishers asked each other, "Who is she?" after she took the lead and held on to it.
The favorites in February's race expected Spangler to fade, but she never did. Somewhere inside herself, she found the courage and stamina to finish strong. Not only did she make the Olympic team, but she took home first prize – $45,000.
Does the day ahead of you look as grueling as a marathon? Keep Jenny Spangler in mind as you jog through your various commitments and responsibilities. Believe you can get the job done. Run the race God has marked out before you. Keep moving!
You can end each day with the satisfaction of knowing you are that much closer to the goal!
This devotion is from "Breakfast with God."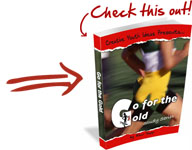 Go for the Gold
Need an evangelistic Youth Camp/ Bible Study Series with an Olympic Theme?
What is salvation all about? What does it mean to be saved? This sports themed Bible Study / Camp Curriculum uses the Olympic Flag to introduce the concepts of sin (black circle), forgiveness (red circle), purity (white background), spiritual growth (green circle), heaven (Yellow Circle) and (Baptism) blue circle.
-> Tell me about "Go for the Gold"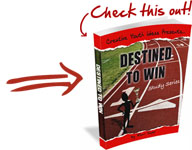 Destined to Win
Need a Youth Camp/ Bible Study Series on "Running the Christian Race"?
The race as a metaphor for the Christian life is used in several places in the Bible. This series is a great follow up for new Christians or to re-emphasize the basics of our spiritual Journey in the Faith. This Bible Study / Camp Curriculum has a sports theme and is great for athletes as well as a tie in to the youth Olympic Games.
->Tell me about "Destined to Win"


| | |
| --- | --- |
| | Rate This Post by Clicking the Stars : |