The roots of the American Thanksgiving holiday celebration are found in the faith of our American Founders and Forefathers. For many people, like the pilgrims and puritans, it was the quest for religious freedom that brought them to America. Yet it was their faith in God that brought them through the tests and trials of day to day life.
A fitting way to begin this November, the month in which Americans celebrate Thanksgiving, is to look at some of the words of famous Americans regarding their deep faith in God and their thanks for his blessings!
Here's some from the Thanksgiving quotes found in the Creative Youth Ideas Website Archives: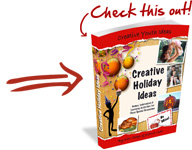 Holiday Collection


Games and Activities in Celebration of common Holidays.
Creative Holiday Ideas has over 300 pages of ideas to help you plan your next New Year's Day, Valentine's Day, Mother's Day, Father's Day, Halloween or Fall Festival, and Thanksgiving event. If you've ever wondered what you're going to do for all these holidays and how you're going to do it, this resource is for you.
=> Tell me more about the Holiday Collection


| | |
| --- | --- |
| | Rate This Post by Clicking the Stars : |