This makes a great icebreaker and encourages people to have conversations with strangers and people they don't know very well throughout the whole New Year Party event.
Game Description
This New Year Party Game serves as an ongoing icebreaker which encourages everyone to initiate and engage in conversations. Because of the setup of the game, it keeps everyone involved throughout the night until the final prize is awarded just after midnight!
Game Materials
While my preference is to use silver garland leftover from Christmas to make necklaces, this New Year Party game can be played with party hats, New Year Hats, or even nametags. Check those after-Christmas sales for great discounts on silver garland! Then you can just cut it to length to make a necklace for each person.
Game Preparation
Provide enough garlands or whatever item you have substituted for the garland for everyone that will attend the party. Every guest at the New Year party is given a silver garland necklace when they arrive at the party. You can also give them party hats and noicemakers to help usher in the new Year. This game is played while people mingle during the party and the prize is awarded right after midnight.
Game Play
Party Guests must ask other guests any questions in which the natural answer would by "no" or have the word "know" as part of the answer.
If anyone uses either word ("no" or "know") in conversation, the guest they are talking to gets to take all their silver garlands (or party hat, nametag, special sticker or whatever item you have chosen for your New Year Party.) Those wearing the greatest number of garlands become hot targets!
After midnight, the Party guest with the most garlands wins.
If a guest has lost his or her garland, he or she can still play and ask questions. They could even jump to the lead again by gaining the garlands from someone with a lot of them.
Game Discussion or Debrief
As we approach the New Year, a positive attitude and optimistic outlook will help us to make it a prosperous one. After all, as Christians, we have a lot to be hopeful for! It's easy to get caught up in pessimism based on past mistakes, failures, and unrealised dreams and goals. But with Christ, everyday can be a new beginning! Christ came that we might have life and might have it abundantly. Jeremiah 29:11+ reminds us that God has plans for our lives, plan for a hope and a future! Instead of saying "no" to things this year, say "Yes"!
What is something that God might ask you to in the New Year? Say "YES!" Maybe you have been saying "No" to Jesus becoming your Lord and Savior! Maybe you have been saying know to something he has placed on your heart to do?
Begin the New Year by saying "Yes" to Him and his lordship in your life. Seek God first and all God's blessing he plans for you will be yours!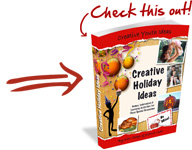 Holiday Collection


Games and Activities in Celebration of common Holidays.
Creative Holiday Ideas has over 300 pages of ideas to help you plan your next New Year's Day, Valentine's Day, Mother's Day, Father's Day, Halloween or Fall Festival, and Thanksgiving event. If you've ever wondered what you're going to do for all these holidays and how you're going to do it, this resource is for you.
=> Tell me more about the Holiday Collection


| | |
| --- | --- |
| | Rate This Post by Clicking the Stars : |