Description
Easter Egg Bowling is an Easter themed variation of "Lawn Bowling" but on a smaller scale. It's suitable for youth, children and adults of all ages.
History of Lawn Bowling
Lawn bowling is very similar to an Italian game known as bocce. Because of this, many historians believed it started with Roman Soldiers throwing small stones at a target stone. It is traced back to the 13th or 12th century at its earliest, so it is unlikely that Roman soldiers played the game during the time of Christ. As the game developed over the course of history, weights were added inside a ball to cause it to travel a curved path when rolling along the ground. Today, lawn bowling is typically played on a level grass surface. Instead of placing weights inside the ball, the ball is flattened a little on one side to cause it to travel in the curved path.
Game Objective
The objective of lawn bowling is to roll a ball, closest to a target ball. In the traditional game this is a small white ball called a "jack" or a "kitty". In this Easter variation of the game, hard boiled eggs are used instead of a an irregular shaped ball. The Easter Eggs, like the balls used in the traditional sport, are also of an irregular shape and so also roll in a curved path. The target can either be a specially colored Easter egg or another small object. You will want to limit the size of the playing area and insure the eggs are ROLLED rather than tossed otherwise you are likely to have egg mush instead of intact eggs.
Game Resources
A basket of Easter Eggs – Typically the traditional game is played with two teams of 1 to 4 players though larger teams of youth are possible. Because of this it is suggested that there be a different color for each team's eggs. If you have a very large group of youth you might have more than one playing area with two teams at each area or play it in stages (two teams at a time) so that the winning teams advance to the championship. Instead of real Easter eggs, you could use plastic eggs filled with rice or sand and taped shut.
a jack (specially colored Easter egg)
a starting mat or piece of paper for the base (A piece of cardboard works well and newsprint can be used if cardboard is unavailable)
a playing area – soft grass or soft carpet.
a ball of twine or string
Preparation
Set aside Easter Eggs for each team of youth, preferably one color for each team.
Create boundaries for the game. The traditional games takes place in a large field known as the "bowling green", but reduce the size to limit damage to the eggs. An easy way to mark the boundaries is to use a piece of string. You can poke a small twig or plastic fork in the ground at each corner then tie the strong between the forks to mark the playing area. If you are doing this indoors with a carpeted area, simply use a piece of tape to adhere the string at each corner. If all you have is a hard surface to play the game (like a gym floor), you can get old newspapers and lay them down on the floor, overlapping them to create a softer surface. The edge of the mat of newspapers then becomes the boundary.
Flip a coin to see which team of youth gets to set up the mat and the target. The winner of the coin toss gets to place the mat at the edge of the bowling green and toss the target Easter egg, "jack", into the center as the target. If the target Easter egg is too close to the edges of the playing area it can be centered (between the left and right side) but maintaining the same distance it was tossed.
How to Play
Youth take turns tossing their Easter Eggs toward the target.
After each team of youth has rolled all of their eggs, the score is calculated. You should choose in advance how many rounds will be played or a specific score to be reached in order to win. The team of youth which loses a round gets to set the mat and target for next round.
Rules for Game Play
Youth must keep ONE foot on the mat when releasing the Easter egg toward the target.
An Easter egg may temporarily roll outside the boundary, but must stop inside the boundary to be a valid toss. Once it has come to a stop, if it rests outside the boundary it is not considered in scoring UNLESS it touched the target Easter egg before it rolled out of the boundaries.
There is no penalty for hitting the target Easter egg, and in fact moving the target egg with a hit might be a viable strategy. If the target egg is knocked out of the boundaries the round can be replayed or re-centered between the left and right boundary but maintaining the distance from where it went out of bounds.
There is no penalty for hitting an opponent's Easter egg and knocking it out of position or completely out of bounds.
It is perfectly legal to roll an Easter egg into a position which blocks opponents.
Scoring
The team of youth which has the Easter egg closest to the target receives a point. A piece of string is a great way to measure the distance. Each Easter egg belonging to the same team of youth that is closer than any of the competitor's Easter eggs adds an additional point. Play continues until a specific score is achieved or a set number of rounds is completed.
Taking it to the Next Level
One of the key ideas in this game is that there is a target and we try to get as close to that target as possible while avoiding obstacles, getting knocked aside sometimes, dealing with a natural curve or bias, and striving to stay within boundaries. Some of the possible targets that could be discussed are love, evangelism, becoming Christlike, and pleasing God. (see the scriptures below for more detail)
Discussion Questions for Youth
What is the target of life as a Christian youth?
Do other youth ever try to block us from that target or even try to knock us away from it? How? Why?
What are some of the reasons youth fall short of this target?
What are some of the biases or tendencies youth have to overcome?
What are some of the strategies youth can use to become closer to the target?
What lessons can we learn from this game that apply to the Christian walk of youth?
What is something you will personally do as a result of what you have learned from this game?
Scriptures
1 Timothy 1:5 – Our goal is love
Matthew 28:16-20; 2 Peter 3:9 – Our goal is making disciples (evangelism)
1 Corinthians 10:31; Ephesians 1:11-12; 1 Peter 2:9; Jeremiah 9:23-24 – Our goal is to please God
Romans 8:29; Ephesians 4:13; 2 Corinthians 3:18 – Our goal is to be transformed into the likeness of Christ
Ephesians 4:22-24 – Our goal is to be like God in Righteousness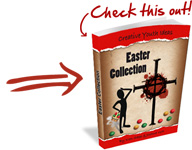 Easter Collection


Games and Activities in celebration of Easter.
Get more than 80 creative ideas for planning a Youth Easter celebration or Easter Party. You can immediately download my best Easter Icebreakers, games, illustrations, Easter activity ideas AND MUCH MORE in a useful ebook!
=> Tell me more about the Easter Collection


| | |
| --- | --- |
| | Rate This Post by Clicking the Stars : |