Materials
Enough Easter Eggs for all participants to have 1 egg
Easter Basket or a bag
Game Objective
Use Easter Eggs to separate your group into teams.
Game Preparation
Determine before your event how many teams you want to have and how many people you want on each team.
Choose one color of egg for each team.
Make sure the remaining eggs are of equal numbers for each color.
Place all the eggs you have selected into a bag and mix them up.
Game Play
When participants walk into the party, allow them to reach into the bag or Easter Basket and grab one color of Egg to hold onto–not to eat!
When everyone has arrived and you are ready to form teams, tell everyone to shout out their color until they find everyone else in their team.
Variations
Combine this with Jelly Bean Salvation for a fun Easter Gospel presentation.
Instead of real easter eggs, use hollow plastic easter eggs and combine this with Easter Egg Hunt for a meaningful lesson on the events surrounding Easter. You can also write the verses on the eggs with wax before you dye the real eggs.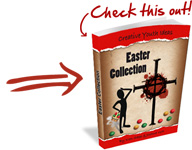 Easter Collection


Games and Activities in celebration of Easter.
Get more than 80 creative ideas for planning a Youth Easter celebration or Easter Party. You can immediately download my best Easter Icebreakers, games, illustrations, Easter activity ideas AND MUCH MORE in a useful ebook!
=> Tell me more about the Easter Collection


| | |
| --- | --- |
| | Rate This Post by Clicking the Stars : |