My Father….
Loving: John 3:16
Caring: Matt 6:26
Forgiving: Psalm 103:12
Compassionate: Psalm 103:4-5
Giving: Romans 8:32
Understanding: Psalm 139:1-2
Accepting: Psalm 139:1-6
Satisfies: Psalm 107:9
Persistently Pursuing: Luke 19:10
Reasonable: Isaiah 1:18
Pardons: Psalm 103:3
Heals: Isaiah 53:5
Redeems: Job 19:25
Loving-Kindness: Psalm 86:15
Renews: Isaiah 40:31
Righteous: Jeremiah 9:23-24
Gracious: ephesians 1:7-8
Sovereign: Psalm 103:19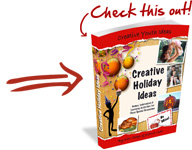 Holiday Collection


Games and Activities in Celebration of common Holidays.
Creative Holiday Ideas has over 300 pages of ideas to help you plan not only your next Father's Day, but also other common celebrations. If you've ever wondered what you're going to do for the next holiday and how you're going to do it, this resource is for you.
=> Tell me more about the Holiday Collection


| | |
| --- | --- |
| | Rate This Post by Clicking the Stars : |