Olympic Marathon Runner Ryan Hall
I read an article today in the New York Times about an exceptional runner. His name is Ryan Hall. You've got to read it to believe it.
At the 2011 Boston Marathon, Ryan Hall ran a personal best of 2 hours 4 minutes 58 seconds. No other American has run faster. What's more surprising is the fact that he coaches himself, running alone instead of with an elite training group in Northern California. Well, he's not necessarily alone.
You see, after finishing second at the 2011 United States half-marathon championships, Hall went to drug testing, a standard procedure. Asked on a form to list his coach, he wrote: God.
"You have to list the name of a real person," a doping official said. "He is a real person," Hall responded.
2008 Beijing Olympics
Just a couple years earlier on August 24, 2008, Hall reached the starting line of the Olympic marathon in Beijing. Hall was considered a medal candidate. But he felt sluggish and when the gun sounded, his race plan crumbled. Dejected, Hall finished 10th in 2:12:33. He was unable to watch a replay of the race for three years. Emotionally scarring, he called it.
Eventually, that defeat in Beijing changed from deflating to liberating for Hall. He embraced risk and lost his fear of failure.
"I don't see failure as a negative thing at all anymore, which is a huge shift for me," he said. "I just see that as part of my training, my process, learning, experimenting, getting it wrong so that I can get it right."
"Sometimes, you have to fail your way to the top," Hall said in his open, easy manner in March. "Thomas Edison found a thousand ways not to make a light bulb before he got it right."
2012 London Olympics
And he's well on his way. Of the 29 fastest marathon performances in 2011, Hall's was the only one by a runner from a country other than Kenya or Ethiopia. His next marathon will come August 12th at the London Olympics. Hall firmly believes he could challenge the East Africans for a gold medal.
"It's going to take a special day," Hall said of his gold medal chances. "But I feel like I went for it, regardless of how the race goes. I'll always look back on this as a season of joy. Sometimes it works out, and sometimes it doesn't. That's part of the fun of life, taking some chances and seeing what happens."
Faith Based Training
Some elite runners seem taken aback by Hall's faith-based training.
"So he really thinks God is saying, 'Run 10 times 1,200 meters today,' or 'Take tomorrow off'?' " said Dathan Ritzenhein, who finished ninth in the marathon at the 2008 Beijing Olympics, one spot ahead of his countryman Hall. "Wow."
Take It to the Next Level
It's uncanny that Ryan chose the marathon as his sport of choice. It's very much like our walk with Christ. We're not meant to be fireworks, putting on a big show, burning bright in a blaze of glory then fizzling out. We're meant to be lamps, being consistent, burning slowly so that we can light the world for generations to see. Are we burning out in our zeal for God? Or are we pacing ourselves for the spiritual journey ahead? In this race, we'll experience disappointments, failure, uneven roads, missed opportunities and losses. God is not asking us to be perfect right away. It's part of the journey. It's only when we're authentic Christians that we can be great witnesses for God. When we can be real with God in our struggles and real with the people around us that we can be true witnesses for Christ.
Failure
What we don't often realize is that failure is part of our Christian walk. In stumbling and failing we do grow strong. We become the kind of person God wants us to be. That's where true victory lies. Not in winning, but in the building of our character. That's what God is more concerned about. When we fall, we get tired, and feel like giving up because we failed or felt we failed God through our own weakness, that's when we need to come to Him even more. Rather than blame God for "failing us" or when things don't always go our way, we need to pause and look at the bigger picture from God's perspective. Instead of asking, "Why God?" We need to ask, "What do you want me to learn through this?" It's okay to not understand what God wants to show us. We don't need to have it all figured out. All we need to do is trust Him. That in his divine, big picture plan for us, failure is necessary. It's okay to be disappointed, to be real with God. But let's not stay in that place and wallow forever. We have a God we can draw strength from. To hope in. To wait upon. And he's always willing to renew us and give us what we need to push on to the next leg of our spiritual race.
"Why do you complain, Jacob? Why do you say, Israel, "My way is hidden from the Lord; my cause is disregarded by my God"? Do you not know? Have you not heard? The Lord is the everlasting God, the Creator of the ends of the earth. He will not grow tired or weary, and his understanding no one can fathom. He gives strength to the weary and increases the power of the weak. Even youths grow tired and weary, and young men stumble and fall; but those who hope in the Lord will renew their strength. They will soar on wings like eagles; they will run and not grow weary, they will walk and not be faint." Isaiah 40:27-31 (NIV)
Witnesses
People see the power of our God working through us, in our character, in our speech, conduct, integrity, wisdom, perseverance, kindness, and faithfulness. How can we be a great witness for God is we behave no differently from the standards of the world? We need to set ourselves apart. To be in the world, but not of it – participating in the affairs of the world, but not sticking to what the world believes is "right". We need to hold ourselves to a higher standard – the standard of the cross. We have to be Christians "where we live", in our offices, schools, bands, sports, squads, homes, and community. It doesn't matter what we're doing, whether we're running, playing football, studying, working. Our lives have to reflect God's character in this world. That's really what's going to make people who don't have a personal relationship with God sit up and go, "Wow. I want me some of that!"
"You are the light of the world. A town built on a hill cannot be hidden. Neither do people light a lamp and put it under a bowl. Instead they put it on its stand, and it gives light to everyone in the house. In the same way, let your light shine before others, that they may see your good deeds and glorify your Father in heaven."
Matthew 5:14-16 (NIV)
Scripture Verses for Bible Study
Isaiah 40:27-31
Matthew 5:14-16
Discussion
Think about a time when you failed. How did you feel?
Looking back at that failure, did you come out of the situation bitter or better?
What are some of the lessons you have learned from failures in your own life?
What are some important Biblical lessons to remember when you face future failures?
What words might come to mind if people were to describe you?
How would others describe the role of God in your life?
How can you reflects Christ's character in your family, among your friends, in your school, to the world?
How can you be a more authentic Christian among those around you?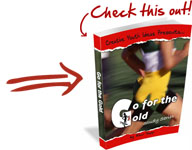 Go for the Gold
Need an evangelistic Youth Camp/ Bible Study Series with an Olympic Theme?
What is salvation all about? What does it mean to be saved? This sports themed Bible Study / Camp Curriculum uses the Olympic Flag to introduce the concepts of sin (black circle), forgiveness (red circle), purity (white background), spiritual growth (green circle), heaven (Yellow Circle) and (Baptism) blue circle.
-> Tell me about "Go for the Gold"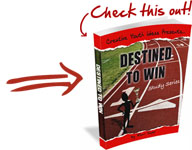 Destined to Win
Need a Youth Camp/ Bible Study Series on "Running the Christian Race"?
The race as a metaphor for the Christian life is used in several places in the Bible. This series is a great follow up for new Christians or to re-emphasize the basics of our spiritual Journey in the Faith. This Bible Study / Camp Curriculum has a sports theme and is great for athletes as well as a tie in to the youth Olympic Games.
->Tell me about "Destined to Win"


| | |
| --- | --- |
| | Rate This Post by Clicking the Stars : |