A String of Ducklings
In the 1992 Olympics Henry Pearce of Australia was competing in the single scull rowing event at the 1928 Olympics. He was leading when a duck and her string of ducklings came into view up ahead. They were on a collision course and Pearce reckoned that his scull would cut the string in two and sink a few ducklings in the process, so he pulled in his oars. When the ducks passed, Pearce again bent his back to the task. There's a happy ending to the story. Pearce won. Usually, acts of sportsmanship result in defeat. Remember Leo Durocher's pronouncement, "Nice guys finish last"?
A Broken Rudder
It happened a couple of years ago in the marathon tandem kayak racing event at the world championships in Copenhagen. Danish paddlers were leading when their rudder was damaged in a portage. British paddlers, who were in second place, stopped to help the Danes fix it. The Danes went on to defeat the British by one second in an event that lasted nearly three hours. But there's a happy ending to this story too. According to The Wall Street Journal, the British kayakers won what many people regard as the highest honor in sports. They became the winner of the Pierre de Coubertin International Fair Play Trophy.
The trophy is named for the founder of the modern Olympic Games, and it has been awarded annually for the past 28 years to people in sports who have demonstrated nobility of spirit. It is big news in Europe, but it has not been given much recognition in the United States. In the past, the trophy has gone to a Hungarian tennis player who pleaded with officials to give his opponent more time to recover from a cramp, and to a high school basketball coach who forfeited the Georgia (US) state championship after he found out that one of his players was scholastically ineligible.
A Broken Bolt
The first trophy went to an Italian bobsledder named Eugenio Monti for a gesture that exhibited a touch of class. In the two-man bobsled event at the 1964 Innsbruck Olympics, Monti was the leader after his final run. The only one given a chance to beat him was Tony Nash of Great Britain. As Nash and his teammate got ready for their final run, they discovered that a critical bolt on their sled had snapped at the last moment. Monti was informed of the problem and immediately took the corresponding bolt from his own sled and sent it up to Nash. Nash fixed his sled, came hurtling down the course to set a record and won the gold medal.
Source: Bits & Pieces, October 15, 1992, Page 4-6
As a Christian, our Highest Honor is to appear before God and have him proclaim, "Well Done, my good and faithful servant." (Matthew 25:23)
Other related Bible Verses
"Blessed is the man who remains steadfast under trial, for when he has stood the test he will receive the crown of life, which God has promised to those who love him." (James 1:12)
His master said to him, 'Well done, good and faithful servant. You have been faithful over a little; I will set you over much. Enter into the joy of your master.' (Matthew 25:21)
"And we know that for those who love God all things work together for good, for those who are called according to his purpose. For those whom he foreknew he also predestined to be conformed to the image of his Son, in order that he might be the firstborn among many brothers." (Romans 8:28-29)
"By this all men will know that you are my disciples, if you love one another." (John 13:35)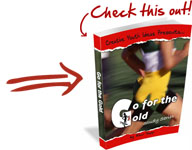 Go for the Gold
Need an evangelistic Youth Camp/ Bible Study Series with an Olympic Theme?
What is salvation all about? What does it mean to be saved? This sports themed Bible Study / Camp Curriculum uses the Olympic Flag to introduce the concepts of sin (black circle), forgiveness (red circle), purity (white background), spiritual growth (green circle), heaven (Yellow Circle) and (Baptism) blue circle.
-> Tell me about "Go for the Gold"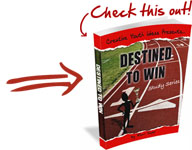 Destined to Win
Need a Youth Camp/ Bible Study Series on "Running the Christian Race"?
The race as a metaphor for the Christian life is used in several places in the Bible. This series is a great follow up for new Christians or to re-emphasize the basics of our spiritual Journey in the Faith. This Bible Study / Camp Curriculum has a sports theme and is great for athletes as well as a tie in to the youth Olympic Games.
->Tell me about "Destined to Win"


| | |
| --- | --- |
| | Rate This Post by Clicking the Stars : |