Thanksgiving Thoughts and Illustrations for Inspiration and Reflection
How to Observe Thanksgiving – Do you count your blessings or your crosses?
ABC's of Thanksgiving – Thanksgiving is many things to many people. In this short poem, the author identifies something to be thankful for using each letter of the Alphabet.
Worship and Worry – Is Thanksgiving missing from your Prayer life? Worship and worry cannot live in the same heart!
Everyday Thanksgiving – While we set aside Thanksgiving Day as a celebration of all the things we have to be thankful for during the past year, this poem reminds us that there are things to be thankful for each and every day of life.
Christ's Banquet Table – When you think of Thanksgiving and the abundant feast, you should also consider the feast that God has laid before you in Christ.
Autumn – These thoughts from Charles Swindoll on Autumn in our lives are perfectly suitable for Thanksgiving Reflection.
Leftovers When it comes to Giving Thanks in your life, Does God only get your leftovers?
Thanksgiving Dinner – Reaching out to others who are less well of is one way of giving Thanks to God for his blessings
Be Thankful – Find a way to be thankful for your troubles, and they can become your blessings.
With Heart and Hand and Voices – Surrounded by tremendous adversity, thanksgiving will deliver you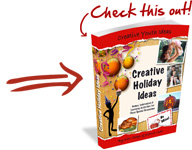 Holiday Collection


Games and Activities in Celebration of common Holidays.
Creative Holiday Ideas has over 300 pages of ideas to help you plan your next Thanksgiving event for your youth. If you've ever wondered what you're going to do with your youth for many of the common holidays and how you're going to do it, this resource is for you.
=> Tell me more about the Holiday Collection


| | |
| --- | --- |
| | Rate This Post by Clicking the Stars : |