With October comes Halloween. While there is often debate as to whether we as Christians should participate in a holiday with pagan roots, others use this as an opportunity to provide Christian alternatives like a fall festival, a harvest festival or a carnival. You can read more about the debate here:
A Christian Response to Halloween?
But rather than debate the issue, I am going to provide some things that could be done as part of a Christian alternative either as a family or as a church or youth group. (For the rest of you, many of the ideas involving pumpkins and other things could also be used at Thanksgiving or any time during the year for that matter.) And many of them are VERY evangelistic in nature!
Games where you can dress Up!
Pumpkins!
Games using Halloween Candy
Halloween Related Humor
Looking for some fun icebreakers for your Halloween alternative? Find out how you can get 52 of my best icebreakers of all time! (That's a full year of icebreakers – one a week!) They even lead into lessons on youth related issues! Visit www.CreativeIcebreakers.com today!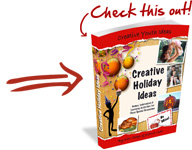 Holiday Collection


Games and Activities in Celebration of common Holidays.
Creative Holiday Ideas has over 300 pages of ideas to help you plan your next New Year's Day, Valentine's Day, Mother's Day, Father's Day, Halloween or Fall Festival, and Thanksgiving event. If you've ever wondered what you're going to do for all these holidays and how you're going to do it, this resource is for you.
=> Tell me more about the Holiday Collection


| | |
| --- | --- |
| | Rate This Post by Clicking the Stars : |