Description
Conspicuously placed signs get attention and encourage participation.
Example
Post two large sheets of paper or a couple of sheets of newsprint (small print classifieds work best) with
the heading "Good Things Come to Those Who Wait" on opposite walls.
Use large tip markers but make sure the paper is thick enough so it does not bleed through. Alternatively use your classroom whiteboard.
As youth arrive, direct them to one of sheets of paper or the whiteboard and instruct them to list as many things as possible that may take a while to receive but are definitely worth the wait.
Note: pasting newsprint around the room, on the floor or on a table etc in unusual places with large printed questions is more likely to catch their attention when they enter your classroom because it is unusual.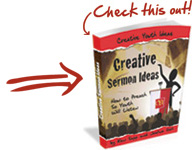 Get Help on Your Youth Sermons
Creative Sermon Ideas
This 100 Page e-Book Includes All The Help You Need To Prepare Powerful, Life-Changing Youth Sermons That Will Turn Your Preaching Around And Make Your Youth Sit Up And Listen! Includes 7 Complete Sermons.
–> I want More Youth Sermon Ideas…


| | |
| --- | --- |
| | Rate This Post by Clicking the Stars : |