When it comes to decorating for Christmas, some youth pastors find this to be one of the most difficult things to do. While there are some awesome Christmas decoration setups that people have created, they cost a bundle that not every youth budget can afford. Of course, even on a budget, you will still be able to host a youth Christmas party and have a setup that youth will end up talking about for a long time. The best ingredient for a Christmas Party is games and relationships, but you still want a to have a little bit of decorations to enhance the Christmas atmosphere.
Decorating the Snack Table
Chances are if you are hosting a youth party, you will be having a table spread of food. This is the perfect place to begin the decoration process. Find an inexpensive green table cloth to throw on it and accent it with a series of red candles. If your youth are a little wild, candles might be a little dangerous in which you might want to accent the table cloth with red cups, forks, napkins, etc. You can even simply tie a large ribbon and bow across the table (easily made from a strips of red cloth or even a red table cloth cut into strips, and make it look like a giant wrapped gift. This inexpensive and simple method is the perfect way to begin the Christmas decorations in your home or youth room.
Christmas Lights
Lights are also a very popular way of decorating for your youth Christmas party. You can place these twinkling lights around windows, the edges of a wall or just about anywhere at all. They will add the holiday feeling in a room and can get youth talking. While you are doing this, keep in mind that you should never put together more than 3 sets per plug.
Christmas Tree
The Christmas tree is another staple that will be essential in the space you are decorating. When you are looking for the perfect size, try to shoot for about a foot short of being between the floor and your ceiling. This way, you have room for a topper and if it lights, you won't have to worry about it touching the ceiling and getting too hot. While you are decorating it, make sure you have a series of lights deep around the inner portion of the tree as well as the edges. Larger ornaments go at the base and they work up to the smallest ones at the top of the tree. This way, you end up with a brilliant looking tree that people will compliment you on.
Balloons
If you find you are just looking to fill the room with some quick Christmas cheer, pick up a series of red and green balloons. These will fill up a space quickly, keep the theme you want for your decorations and it will still feel like a holiday party, even if you don't have a tree or other items setup. Along with this, you might also consider using some Crepe paper to fill the area above with a series of green and red options.
Decorating Tips
When it comes to decorations, keep in mind that less is more in some cases and you should embrace that attitude. While it might look awesome to pack a room full of winter villages, trees and a variety of other items, it can become visually overpowering. Instead, keep things simple and let each item that you add to your room stand out on its own. This will not only please your youth, but will make cleaning up far easier after the holiday has ended and the decorations need to come down.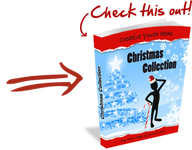 Christmas Collection


Games and Activities helping youth discover the Reason for the Season.
Get more than 200 creative ideas for planning a Youth Christmas celebration or Christmas Party party. You can immediately download my best Christmas Icebreakers, games, illustrations, Christmas activity ideas AND MUCH MORE in a useful ebook!
=> Tell me more about the Christmas Collection


| | |
| --- | --- |
| | Rate This Post by Clicking the Stars : |