Scripture: Isaiah 11:1 and Jeremiah 23:5
E is for Eternal, how long God's love will last.
V is for Victory, won when Christ was born.
E is for Everything, how much we mean to Him.
R is for Rejoicing, that He saved us from our sins.
L is for Leaving, when Christ left all else behind.
A is for Almighty, for God's power never fails.
S is for Salvation, something precious to our hearts.
T is for Tomorrow, and the hope He always brings.
I is for Incredible, how we see Him in our minds.
N is for Never, He will NEVER let us down.
G is for God, the Father, who will always love, protect and guide forever and ever, amen.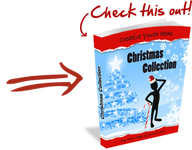 Christmas Collection


Games and Activities helping youth discover the Reason for the Season.
Get more than 200 creative ideas for planning a Youth Christmas celebration or Christmas Party party. You can immediately download my best Christmas Icebreakers, games, illustrations, Christmas activity ideas AND MUCH MORE in a useful ebook!
=> Tell me more about the Christmas Collection


| | |
| --- | --- |
| | Rate This Post by Clicking the Stars : |